Top Five Upcoming Foreign Education Destinations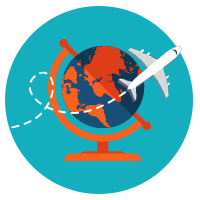 As you plan the next stage of your academic life, you may be exploring study abroad options.  Every year, thousands of students travel to foreign countries to build on their academic credentials.  Let's look at some of the best places students fly to:
1. Australia –  Australia is currently the third most popular destination for international students.   According to The Australian Government Department of Education and Training, in 2015 there were 35,480 international students enrolled in Australia that is approximately 12.1% of the total (the second highest after China).  Eight of the 100 top universities in the world can be found in Australia, and with over 1,100 institutions offering over 22,000 courses students can study anything from anthropology to zoology.
International students are allowed to work up to 20 hours per week while studying in Australia. This is a great opportunity for students to earn money during their stay, and gain work experience in their field of interest while they study.
There is also the possibility of scholarships and grants, which can further help lower the cost of studying in Australia. They are offered by the Australian Government, Universities, and a number of other public and private organizations. For example, Indian students can apply for the Australian Awards that aim to promote knowledge, education and build ties between Australia and its neighboring countries.  The program brings together scholarships offered by the Department of Foreign Affairs, the Department of Education and the Australian Centre for International Agricultural Research.
After completing their studies, the Temporary Graduate visa (subclass 485) allows graduates to work in Australia temporarily. It has two streams: the Graduate Work stream and the Post-Study Work stream:
The Graduate Work stream is for international students who graduate with skills and qualifications that relate to an occupation considered in demand in the Australian labor market, as indicated in the Skilled Occupation List. A visa in this stream is generally granted for 18 months.
The Post-Study Work stream offers extended options for working in Australia to eligible graduates of a higher education degree. Under this stream, successful applicants are granted a visa with a visa period of two, three or four years' duration, depending on the highest educational qualification they have obtained.
2. Singapore – Singapore has grown to become the educational hub for Asia.  It hosts some premier institutions, and the Singapore government has built collaborations with the best institutes around the world, such as MIT and Yale, to provide an excellent and well-rounded education.
Singapore also offers a more affordable education compared to other popular destinations. The Singapore government provides aid to eligible international students. They offer a Tuition Grant Scheme to help students with the costs of tertiary education in Singapore. In exchange for the grant international students will sign a Tuition Grant Agreement in which they will be contractually obliged to work in a Singapore entity for three (3) years upon graduation.
For some students or parents it may be hard to make the leap from Asia to another continent like North America or Europe.  Singapore allows students to study at some of the leading universities of the world, but still be close enough to home for comfort.  Additionally, the cultural environment is very similar to what you may be used to at home, thus making the transition period minimal.
3. Canada – According to the IRCC (Immigration, Refugees and Citizenship Canada), there were 35,059 Indian students in the country in 2015, which is the second largest contingent after China.  Canadian universities provide students globally recognized yet affordable high-quality education.   Living standards in Canada are amongst the highest in the world, but the cost of living and tuition fees for international students are generally lower than in other countries such as the US or UK.
 Canadian Universities also provide international students a means to support themselves. Through the study permit, you can work part time on or off campus during the academic year, and full time during academic breaks. And when you graduate from an eligible Canadian, international graduates can apply for a Post-Graduation Work Permit, which allows them to work in Canada. The Citizenship and Immigration Canada (CIC) recently made changes to the Post-Graduate Work Permit Program to make it more flexible and responsive to the needs of international students. Under the Post-Graduation Work Permit Program, international graduates can now obtain a three year open work permit, allowing them to work for any Canadian employer in any industry. They are not required to have a Canadian job offer at the time of application.
Other popular destinations include Germany and New Zealand.
4. Germany – Germany may soon overtake UK as the most popular study destination in Europe for international students. In 2015 it attracted some 340,000 international students, compared to almost 450,000 in the UK.
There are almost 450 state-accredited universities with approximately 17,500 degree programs.  Furthermore, a number of German universities receive considerable financing from the government thus Bachelor degree programs are usually tuition-free at public universities. Some Masters degree programs do come with tuition fees, but they are not as high as other premier locations.
International students with outstanding academic credentials can also receive scholarships through DAAD (The German Academic Exchange Service).  DAAD is one of the largest scholarship organizations in the world and offers countless scholarship programs.   Since it was founded in 1925, more than 1.9 million scholars in Germany and abroad have received DAAD funding.
5. New Zealand. New Zealand has emerged as a strong option for Indian students in the past 10 years.  In 2015, there were over 29,000 Indian students enrolled to study in New Zealand. New Zealand has eight state-funded universities, 16 Institutes of Technology and Polytechnics (ITPs) and about 550 Private Training Establishments (PTEs), which include English language schools.
On a student visa, Indian students are allowed to work up to 20 hours a week through the semester; during vacations it can be up to 40 hours. Work permits are provided post graduation; the Post Study Work Visa (Open) allows you to find a job that is relevant to your qualification. It's valid for 12 months, and during this time you can work for almost any employer in New Zealand. After you have found a job relevant to your qualification you can apply for a Post Study Work Visa (Employer Assisted).
Your college experience lays the foundation for your future, so it's imperative you find an environment where you can thrive.  Thoroughly evaluate your targeted location, university and program before packing up for your selected destination.
ReachIvy  sincerely hopes that this article serves as a critical tool to increase your knowledge base. For study abroad consultation  or career counselling  with ReachIvy, Submit a Query now! Also, review our resources  to access our free premium content.
This article was also published in Business Standard on 09/02/2017.