Study in Singapore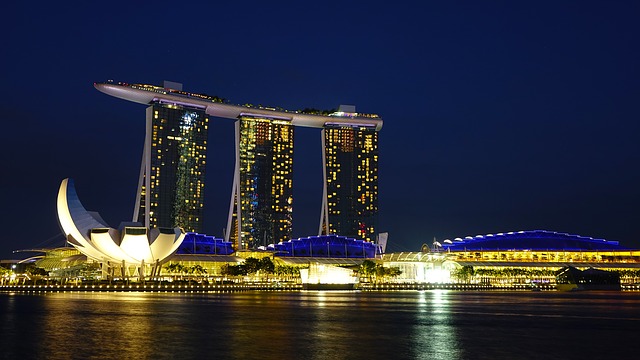 What Do I Need To Know About Singapore?
Singapore is a global city and sovereign state in Southeast Asia and the world's only island city-state. It lies at the southernmost tip of continental Asia and peninsular Malaysia, with Indonesia's Riau Islands to the south. Singapore's territory consists of a diamond-shaped main island along with 62 other islets. Singapore is a global commerce, finance and transport hub. This densely populated island country is covered with tropical flora, parks and gardens.
Population, Demography & Economy (2015)
Urbanization: 100%
Current GDP: 292 billion USD (in Q2 2015)
GDP Growth Rate: 2.2%
Average Income: $55,150 per household (2014)
Unemployment Rate: 1.9% 

Weather & Climate
Located north of the equator, Singapore has a tropical rainforest climate with no distinctive seasons, uniform temperature and pressure, high humidity, and abundant rainfall. It stays hot and humid throughout the year. There are no distinct wet or dry seasons as it rains throughout the year. May to September are marginally dryer.

Education
Education is a priority in Singapore and the nation is recognized as a 'global schoolhouse'. A strong emphasis on education started when the British-based education system was introduced. Today Singapore is one of the leaders in higher education both in Asia and worldwide.

There are 34 universities in Singapore, of which six are national. The two best known, the National University of Singapore (NUS) and Nanyang Technological University (NTU) are both very highly reputed, offering courses in a wide range of subjects to their student population of over 30,000 each. Other popular schools include Singapore Management University, SIM University, Singapore University of Technology and Design and Cornell-Nanyang Institute of Hospitality Management. Why study in Singapore.

Employment Prospects
Even though Singapore is geographically small, there are a lot of jobs available for international students. The following industries are currently booming in the country – Manufacturing, Construction, Tourism, Retail, Healthcare and Finance Information Communications and Digital Media.

Globally, Singapore is a leader in several economic sectors. Its main exports are refined petroleum, integrated circuits and computers including significant electronics, petroleum refining, chemicals, mechanical engineering and biomedical sciences sectors.

Singapore's largest companies are telecom, banking, transportation and manufacturing sectors, including Singapore Telecommunications, Singapore Technologies Engineering, Keppel Corporation, Oversea-Chinese Banking Corporation, Development Bank of Singapore and United Overseas Bank.

Things To Do
Singapore is one of the great cities of the world, with its blend of Asian and European cultures. Graceful colonial buildings co-exist alongside centuries-old street markets and modern high-rises. This tiny island state is also a land of contrasts; Chinatown and Little India, both gastronomic and shopping hubs in their own right, represent the incredible ethnic diversity of the country. For nightlife too sip on a Singapore Sling at the lavish Raffles Hotel, or head to Clarke Quay for some of the city's most picturesque eating and drinking spots.

Top ten places to visit in Singapore are:
Marina Bay. One of the newest land reclamation projects in Singapore, Marina Bay includes of the city's two huge casinos – the Sands. Just across the river are the Gardens by the Bay. The Marina Bay Sands is an integrated resort that has it all: a luxury hotel, restaurants, an endless collection of shops, a convention center that is one of the largest in Asia, theater, an Art Science Museum and other entertainment centers.
Clarke Quay This delightful riverside development is packed full of bustling bars and restaurants, boutique shops and pumping nightclubs, attracting a steady stream of tourists alongside Singapore's party animals. Clarke Quay's location takes full advantage of the picturesque body of water that emerges from the city's main river, with alfresco-style dining to be had in an endless number of eateries set around the water's edge.
Orchard Road. Orchard Road is the main shopping street of Singapore, regularly frequented by the locals as well as foreign tourists. Orchard Road is flanked by malls, numerous upmarket restaurants, coffee chains, cafés, nightclubs and hotels. It is also the site of the official residence of the President of Singapore, the Istana.
Sentosa Island. Take the short trip across to Sentosa Island, with its many and varied attractions ranging from the Universal Studios theme park to an aquarium, a cable car ride, the Sky Tower, nature trails and plenty of bars and restaurants.
Raffles Hotel. This luxurious colonial-style hotel has a long history dating back to 1887 and has become one of the most important Singapore landmarks. The Raffles Hotel features 103 suites and 18 distinctive restaurants and bars as well as an arcade with over 40 boutiques and stores.
National Orchid Garden. Explore the National Orchid Garden in Singapore's Botanic Gardens, which has the largest collection of orchids in the world. The garden contains more than 60,000 species of plants and animals, and is home to the world's first children's garden.
Singapore Flyer. The Singapore Flyer is the world's largest observation wheel. A one-of-a-kind experience built over a three-story terminal building. Passengers will get to see city sights such as the Singapore River, Raffles Place, Marina Bay, Empress Place and the Padang.
The Merlion. The Merlion is more than just a statue. It's a mythical symbol of Singapore, a place to take in some incredible views, and of course, is the city's most sought after photo-op. The term 'must see' will forever be used to describe the Merlion, with the iconic statue attracting over a million visitors per year.
Singapore Night Safari is truly a unique attraction. It is not only an interesting place worth a visit but a leading conservation and research centre in Asia. As a zoo it offers an unusual glimpse into the nocturnal animal kingdom, with more than 59 exhibits and 1,000 animals to be seen from around the world.
Little India and Chinatown. Learn more about its history from the Chinatown Heritage Centre on Pagoda Street in Chinatown. Little India is a colourful and exciting area in Singapore. Located east of the Singapore River, north of Kampong Glam. It is famous for Indian Items.

Food & Drinks
Food and dining are said to be the country's national pastime. Singapore is a gourmet's paradise, with everything from humble street stalls to 5-star restaurants. The focus on food has led the country to attract tourists with food-based itineraries. The diversity of food is touted as a reason to visit the country, and the variety of food representing different ethnicities is seen by the government as a symbol of its multiculturalism. The breadth of cuisine has been increased further by the "hybridization" of different styles. The "national fruit" of Singapore is the durian.

To conclude, Singapore is a modern, vibrant nation with an excellent educational system, providing numerous opportunities for internationals. Getting into Singapore for educational or job prospects gives you a wide range of opportunities to explore and learn. Many global reports show that Singapore is one of the world's leaders in innovation and research. In recent years, Singapore has also invested heavily in arts and culture, to aid its plethora of festivals, museums and public gardens, with the goal of helping to develop its image as more than just a hub of finance and business.