BLOG
Things You Didn't Know About Handling Money For An Overseas Education
Posted on Aug 12, 2016
Sponsored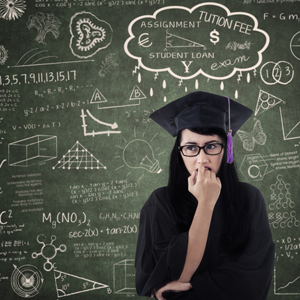 Have you been admitted to your dream school? Are you excitedly packing up your favourite guitar, celebrating multiple farewells with family and friends, and making sure you have enough Maggi to last you a lifetime? Are you in the process of taking care of your responsibilities such as your travel documents, finances, and insurance before you are on your way?
Where your finances and tuition are concerned, it is critical to first understand how  foreign exchange rates impact your money transfers, especially when you are  paying in dollars while earning in rupees.
Getting the Best Rate
The first step is to understand where you will be getting the best rates on your foreign exchange from, and to then compare rates across different sources. Often, banks charge a premium above market price, so compare rates across banks as well as across authorized RBI licensed money changers, where you are likely to get a better deal.  Finding an RBI licensed money changer can be an arduous process when trying to connect with a specific one directly, but there are multiple online aggregators that have done the vetting process for you, which will probably be an easier and better bet.
Understanding the Remittance Process
The second step is to understand the different options you have to remit large sums of money like your tuition fees, and whether the source, which is your own funds or a student loan, makes a difference in the remittance method. In either case, it is not necessary to remit your tuition fee to the university using the same bank, and you can explore options such as aggregators of Certified Money Changers (who are RBI-licensed money changers) that they can help you save more.
The added advantage offered by an aggregator of Certified Money Changers is that even if the bank in which you hold a bank account does not offer the best rate and you would like to use the online international money transfer services of some other bank, you can easily do so. Usually, if you wish to avail of a wire transfer services of a bank offering a great rate, you will only be able to do so by opening an account with them.
However, with an aggregator of Certified Money Changers, your funds are transferred from your bank account to the bank with the better rate, without your having to open a new bank account with them.
Here's an example:
Your tuition + living expenses = $60,000
If your Certified Money Changer's exchange rate is Rs.67.2 / per dollar, and your bank's exchange rate is Rs. 69 / per dollar, you can save over Rs.1 lakh when remitting money internationally.
Understanding Your Loan Repayment Scheme
The third step is to thoroughly understand your loan repayment scheme. Very often, our repayment calculations are incorrect, and we end up paying a very different amount. Here is a case study of two sample scenarios, which shows you the stark difference between what you think the loan repayment amount is, and well, reality.
What you think the loan repayment scheme is when you take a student loan in 2014
Principal loan amount applied for and received = $30,000
Principal loan amount we think we are repaying = Rs. 18 lakhs (where, for example, $1 = Rs.60)
If you applying for a loan of $30,000 you cannot actually determine the exact figure you have to pay as the principal loan amount, as the dollar rate is variable, not static.
So in 2014, if you are remitting your first installment:
Total paid in dollars = $10,000
Total paid in rupees = Rs.6 lakhs (where $1 = Rs.60)
However, the exchange rate goes up in 2015, so when you are remitting your second installment:
Total paid in dollars = $10,000
Total paid in rupees = Rs.6.35 lakhs (where the exchange rate is now, $1 = Rs.63.5)
If we take the same scenario to your last installment in 2016,  the exchange rates have, changed to Rs 68 per dollar, thus making you pay Rs 6.80 lakhs for $10,000!
It is critical to take this extra expense into account while planning your college education, so that you are not in for a nasty surprise as your fee payment is in dollars and not in INR, and this could increase your expenses by 6%.
In many countries, the forex rate can be hedged for future payments so that you don't end up paying extra as market rates change but sadly it's a distant dream in India.
Finding Options That Create Less Paperwork
The fourth step is to understand the technical paperwork related to international money transfers that is in front of you. When you are about to leave to study abroad, you don't want to get caught in long waiting periods with a financial institution to transfer your university payments. Thoroughly research processing times across the different types of money transfer services, such as banks and aggregators of RBI-Licensed Money Changers.
Most aggregators offer documentation help for quick online money transfer services and for registration for exams abroad. Additionally, they have an in-house Chartered Accountants who can help you with all the required certificates such as a CA certificate, an application under Section 195, and A-2 forms.
Procuring A Travel Card For Those Initial Expenses
The fifth step is to make sure you are covered for your initial expenses immediately upon arrival at your international study destination. You can cover the initial expenses by procuring and loading a travel card till a new bank account is opened abroad. In case the balance on the card is exhausted before the new account is opened, you can conveniently get a relative or friend to reload the card from India. Once your foreign bank account is opened, you can use the same aggregator's wire transfer services to get the best rates.
By researching the best rates, the remittance processes, loan repayment schemes, paperwork and having a travel card as a backup, you can embark, well-prepared and with peace of mind, on one of your life's greatest journeys!
This article is sponsored by FxKart, a ReachIvy partner. Fxkart.com is India's largest aggregator of RBI-Licensed Money Changers. They are an online fin-tech startup for buying and selling foreign currency. FxKart deals in currency, travel cards & international money transfers and offer the lowest rates, guaranteed. They have 250+ Aggregators of RBI Licensed Money Changers delivering foreign exchange across 1300+ locations in India.