What To Look For In A Summer Internship?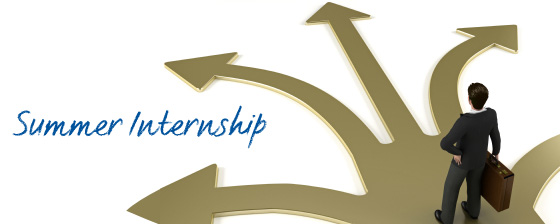 It's summertime and all the colleges have announced a two-month long vacation. Temperatures are soaring in some places (hint: National capital) while some places are still blessed with pleasant weather (hint: Indian Silicon Valley). Many students are eager to dig their shorts and sunglasses out of their closets and enjoy the weather. But while you are doing that, I'm sure you are looking for a summer internship to make the best of your break!
Internships are a tried and tested way of gaining knowledge, skills and experience, relevant to your interest. It is a great opportunity for building connections and getting your feet wet to find out if a specific field is something that you could pursue in the future. This highlights the importance of taking a step forward towards your dream career through internships.
I have been in that position and therefore, I know how difficult this 'figuring out what to do during summer' can get. There are many different options and each one has their own pros and cons. So what points should you keep in mind while choosing your summer role so that you can make this experience count?
Relevant Experience: Identify the appropriate company/role. Get a fair idea about your responsibilities during the internship. Gaining relevant experience is extremely important as it will help you identify your career path. Therefore, make sure the roles that you are offered match your interests and skill set. This will be the first step towards your dream career, so put a lot of thought into it and make certain that it aligns with your strengths and goals.
 Work culture: A positive and motivational work environment can get the best out of you. While interviewing for a firm, ask them questions about the work environment, watch their recruitment videos and if possible, connect with the existing employees of the company over LinkedIn and ask for their opinion. They will be able to give you the best insight. Also connect with the past interns, to see how to get the most out of a short term engagement.
Networking: Summer internships are an excellent opportunity to do some networking; so once you're there, make sure you interact with as many coworkers as possible. A friendly chat over the coffee machine and a mere 'Good Morning' will take you a long way. It is not a one-way street, so try to help your colleagues if they need anything, and build a good work environment of your own!
Money. While most summer internships are unpaid, some companies have started paid internship programs to attract more applicants. Money or no money, this is going to be your call really. All I can suggest is don't contemplate money as a major pro; you want to put this as 'one' of the advantages and then see which internship has more plus points. The money that you'll make in these two months will be spent before you know it but the experience you get will be there for life.
Visit a new place. This can't be a major factor while deciding your summer job, but this could be one of the final filters. Always try to opt for a new city when applying for an internship, it exposes you to a different culture altogether, enhances your experience and keeps you happy and motivated. A coffee at the best cafe in the city or a new native cuisine in a famous restaurant will brighten your mood even on the worst days at work!
Make friends. Follow this advice religiously once you've gone through the above drill, landed a perfect internship and have started your work. Don't confuse this with networking though, these friends will be there on weekend trips and will be your mentor to guide you in the right direction!
Start early. Lastly, I would advise you to start exploring your options at least 2-3 months in advance, so that you can get options you are most interested in. Many companies do on-campus recruitment in the fall for summer internships, so make sure to look out for that too. Starting early will give you enough time to weigh the pros and cons of various internship opportunities and find your best match.
Summer internships will be one of the best experiences of your life; for this is the only time when you can work without worrying about rent or groceries or taxes, and a bad decision while choosing your internship will take this experience away from you! So keep the above points in mind, get yourself a worthwhile summer job and make the most of it. Signing off with wishes of a fun-filled and fruitful summer ahead!
Guest Blog by Himanshi Gautam, currently pursuing an undergraduate degree in Chemical Engineering from IIT Delhi and is spending the summer at Reach Education Pvt. Ltd. as a Digital Outreach Associate. Apart from being an avid reader and writer, she loves to express her creativity through theatre, dance, and painting.
ReachIvy sincerely hopes that this article serves as a critical tool to increase your knowledge base. For study abroad consultation or career counselling with ReachIvy, Submit a Query now! Also, review our resources section to access our free premium content.