#KnowYourCollege – Princeton University
Princeton University is a private Ivy League research university in Princeton, New Jersey, United States. The university is organized into twenty schools, including Columbia College, the School of Engineering and Applied Science, and the School of General Studies.
Find below the Undergraduate Class Profile (2020) to understand your chances: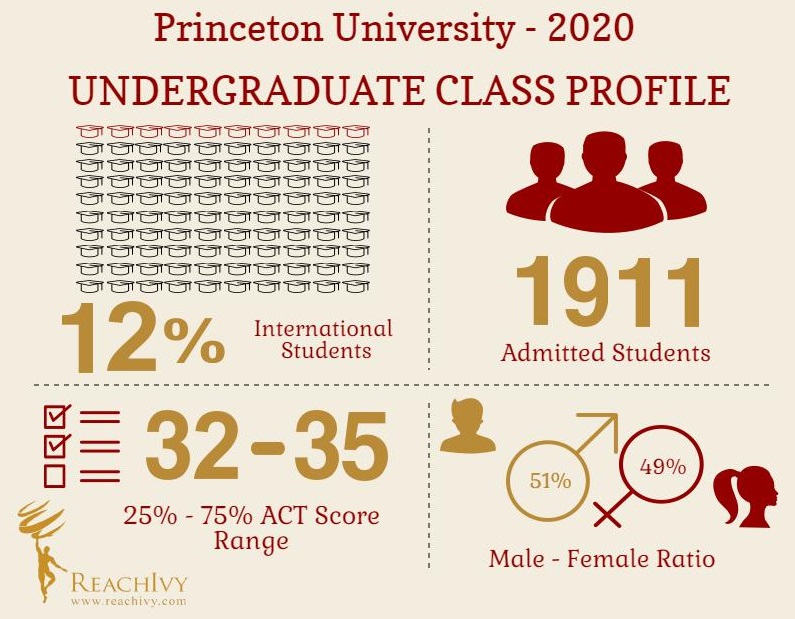 Here are top 4 reasons to consider a undergraduate degree from Princeton University:
1. Academics – Undergraduate students at Princeton benefit from the extraordinary resources of a world-class research institution dedicated to undergraduate teaching. Princeton faculty have an unparalleled reputation for balancing excellence in their fields with a dedication to their students, through both classroom instruction and independent study advising.
2. Admission & Aid – Recognized globally for academic excellence, Princeton University is a vibrant community of scholarship and learning. Princeton provides an academic and social setting where students quickly can become active members of the campus community. From the first day of class to Commencement, the opportunities for personal growth are countless.
3. Campus Life – A vast range of cultural, educational, athletic and social activities are available to Princeton students, faculty and staff. Campus life activities are built around the concepts of encouraging each community member to express his or her talents and to respect all members of our pluralistic community.
4. Library – Princeton University Library, one of the world's most distinguished research libraries, consists of the Harvey S. Firestone Memorial Library and nine buildings across campus. The library's collections include more than 8 million books, 6 million microforms, 49,000 linear feet of manuscripts, and impressive holdings of rare books, prints, archives and other material that require special handling. The library's extensive electronic resources include databases and journals, statistical packages, images and digital maps.
Need help with your college applications? ReachIvy can help!
ReachIvy  sincerely hopes that this article serves as a critical tool to increase your knowledge base. For study abroad consultation  or career counselling  with ReachIvy, Submit a Query now! Also, review our resources  to access our free premium content.
 Source: Princeton University Website