#KnowYourCollege – Brown University
Brown University is the seventh-oldest college in the United States. Brown is an independent, coeducational Ivy League institution comprising undergraduate and graduate programs, plus the Alpert Medical School, School of Public Health, School of Engineering, and the School of Professional Studies.
Find below the Undergraduate Class Profile (2019) to understand your chances: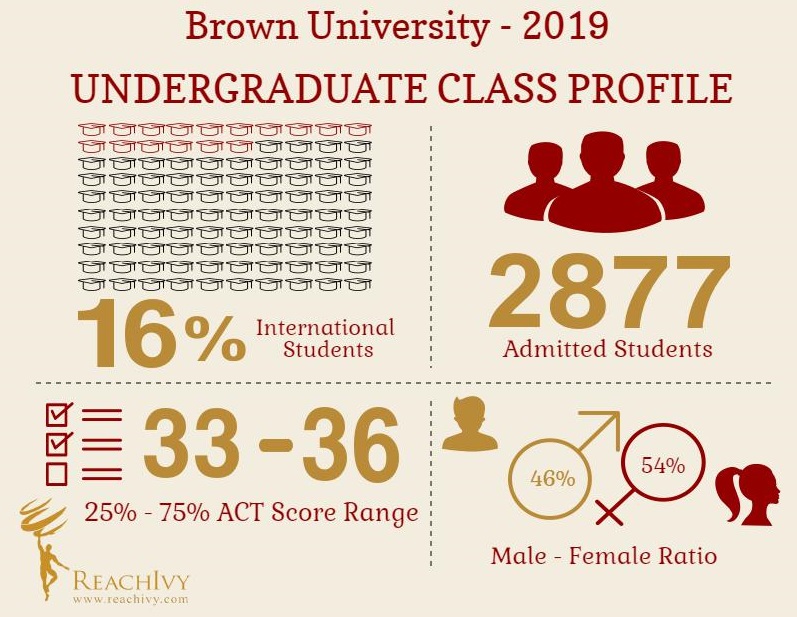 Here are top 4 reasons to consider a undergraduate degree from Brown University:
1. Individualized programs– Undergraduates at Brown are responsible for designing individualized programs of study across multiple departments. A strong advising network helps students engage fully with the Brown curriculum.
2. Global learning– Brown students are active learners. A large number ofcenters and institutes fuel their research. Study abroad programs and international collaborations reflect Brown's commitment to promoting global learning.
3. Library – Learning is supported by alibrary system housing 6.8 million print items, plus a multitude of electronic resources and expanding digital archives.
4. Campus – The main campus occupies 151.7 acres on the East Side of Providence and in the Knowledge District, including 243 buildings.
Need help with your college applications? ReachIvy can help!
ReachIvy  sincerely hopes that this article serves as a critical tool to increase your knowledge base. For study abroad consultation  or career counselling  with ReachIvy, Submit a Query now! Also, review our resources  to access our free premium content.
Source: Brown University Website