#KnowYourCollege – University of Pennsylvania (Wharton)
The Wharton School of the University of Pennsylvania is the business school of the University of Pennsylvania, a private Ivy League university located in Philadelphia, Pennsylvania.
The Wharton School awards Bachelor of Science in Economics degrees at the undergraduate level and Master of Business Administration degrees at the postgraduate level, both of which require the selection of a major. Wharton also offers a Ph.D. program and houses or co-sponsors several diploma programs either alone or in conjunction with the other schools at the university.
Find below the MBA Class Profile (2017) to understand your chances: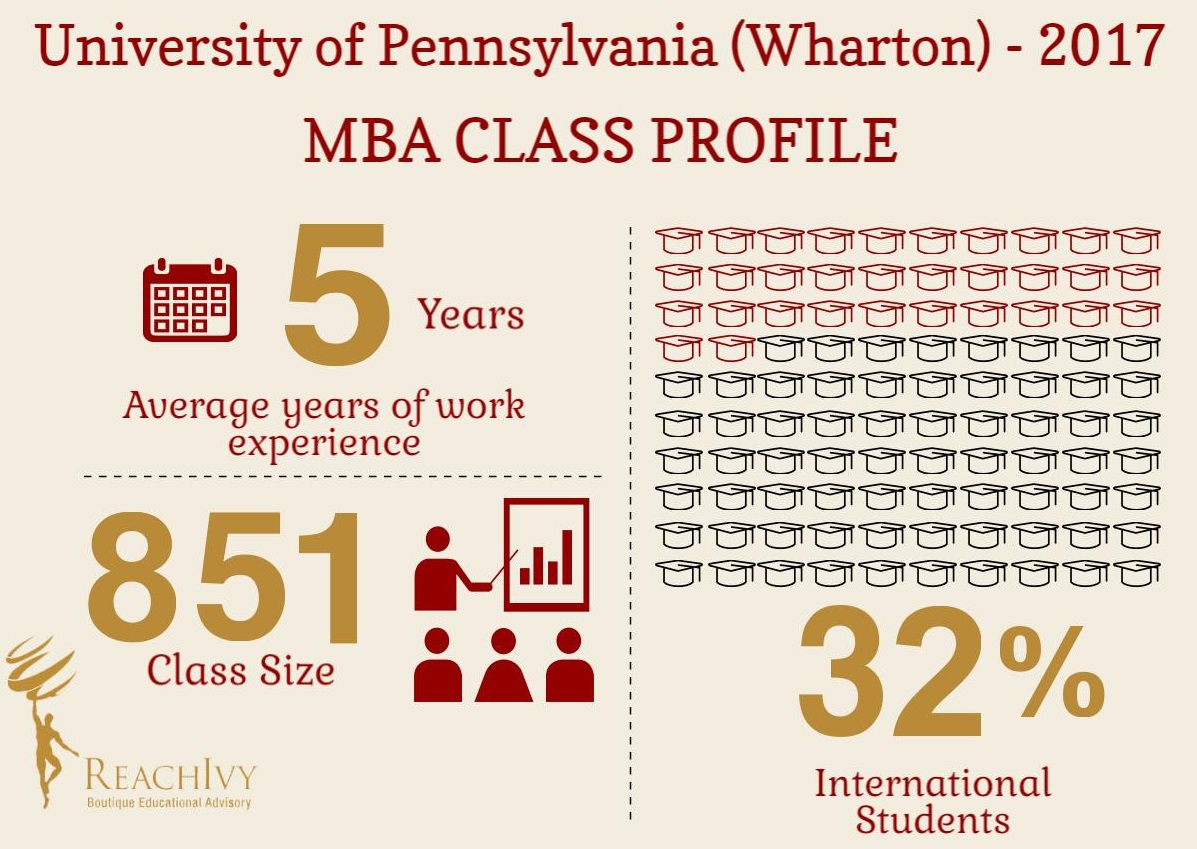 Here are top 5 reasons to consider a MBA from Wharton School of the University of Pennsylvania.
1. Cluster System – A cluster is a group of about 210 students and is comprised of three cohorts (each cohort consists of about 70 students). This is a community, which helps students create close friendships and connections within the larger school. Students get to know members of their cohort through classes and broaden this community through their assigned cluster.
2. Faculty – Wharton's 225-plus professors are one of the largest, most published faculties at any business school. Their standing and affiliated faculty members work within and collaborate across 10 academic departments. 
3. Wharton Fellowship Program – Wharton considers all admitted students for Wharton Fellowship support. Criteria for selection of awards may include academic achievement, compelling leadership, exceptional professional development, and unique personal qualities. There is no formal fellowship application, and notification of fellowship support is included with the admission decision.
4. Extracurricular activities – The experience at Wharton will extends beyond curricular life. Wharton has clubs to match almost every interest. Clubs are created by students and reflect their entrepreneurial spirit–if students have an idea for a new club, they can create it.
5. Commitment to diversity – At Wharton, diversity is not defined by geography, gender or professional background, but by how life experiences have shaped the members of the class. Whatever your background or lifestyle, you'll find the support you need at Wharton and Penn.
Need help with your college applications? ReachIvy can help!
ReachIvy  sincerely hopes that this article serves as a critical tool to increase your knowledge base. For study abroad consultation  or career counselling  with ReachIvy, Submit a Query now! Also, review our resources  to access our free premium content.
 Source: MBA Wharton website