#KnowYourCollege – University of Chicago
University of Chicago is a private institution that was founded in 1890. It has a total undergraduate enrolment of 5,844, its setting is urban, and the campus size is 217 acres. It utilizes a quarter-based academic calendar.
Find below the Undergraduate Class Profile (2020) to understand your chances: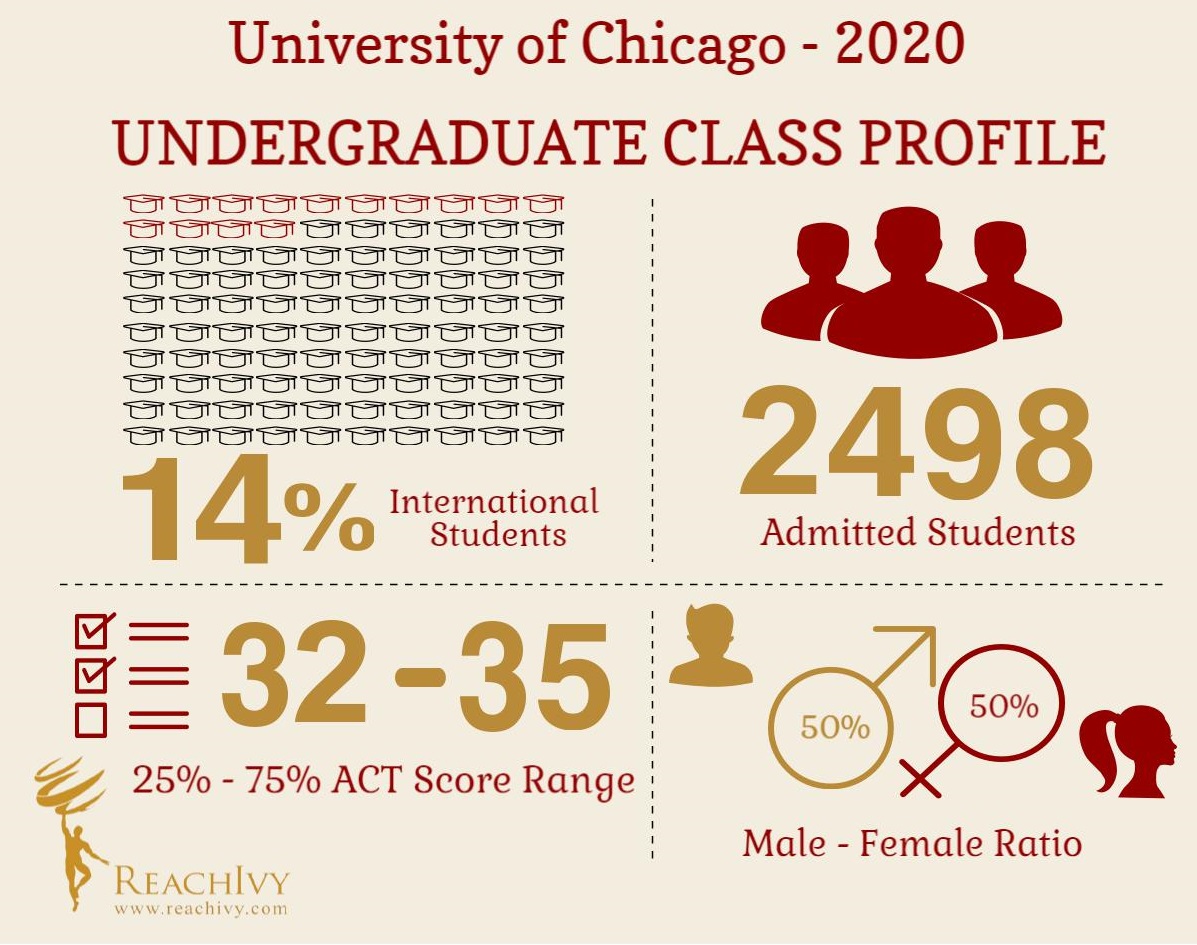 Here are top 4 reasons to consider a undergraduate degree from University of Chicago:
1. Academic Life – The student-faculty ratio at University of Chicago is 5:1, and the school has 77.6 percent of its classes with fewer than 20 students. The most popular majors at University of Chicago include: Economics, Biological and Biomedical Sciences, Mathematics and Statistics and Public Policy Analysis.
2. Student Life – University of Chicago has a total undergraduate enrollment of 5,844, with a gender distribution of 53 percent male students and 47 percent female students. At this school, 52 percent of the students live in college-owned, -operated or -affiliated housing and 48 percent of students live off campus. University of Chicago is part of the NCAA III athletic conference.
3. Cost & Financial Aid – At University of Chicago, 44% percent of full-time undergraduates receive some kind of need-based financial aid and the average need-based scholarship or grant award is $42,467.
4. Campus Services – University of Chicago offers a number of student services, including non-remedial tutoring, health service, health insurance. University of Chicago also offers campus safety and security services like 24-hour foot and vehicle patrols, late night transport/escort service, 24-hour emergency telephones, lighted pathways/sidewalks, controlled dormitory access (key, security card, etc).
Need help with your college applications? ReachIvy can help!
ReachIvy  sincerely hopes that this article serves as a critical tool to increase your knowledge base. For study abroad consultation  or career counselling  with ReachIvy, Submit a Query now! Also, review our resources  to access our free premium content.
Source: University of Chicago website