#KnowYourCollege – Stanford University (GSB)
The Stanford Graduate School of Business (also known as Stanford Business School, Stanford GSB, or GSB) is one of the seven schools of Stanford University.
Stanford GSB offers a general management Master of Business Administration (MBA) degree, the MSx Program (which is a full-time twelve-month MS in Management for mid-career executives) and a Ph.D. program, along with a number of joint degrees with other schools at Stanford including Earth Sciences,  Education,  Engineering,  Law and Medicine.
Find below the MBA Class Profile (2017) to understand your chances: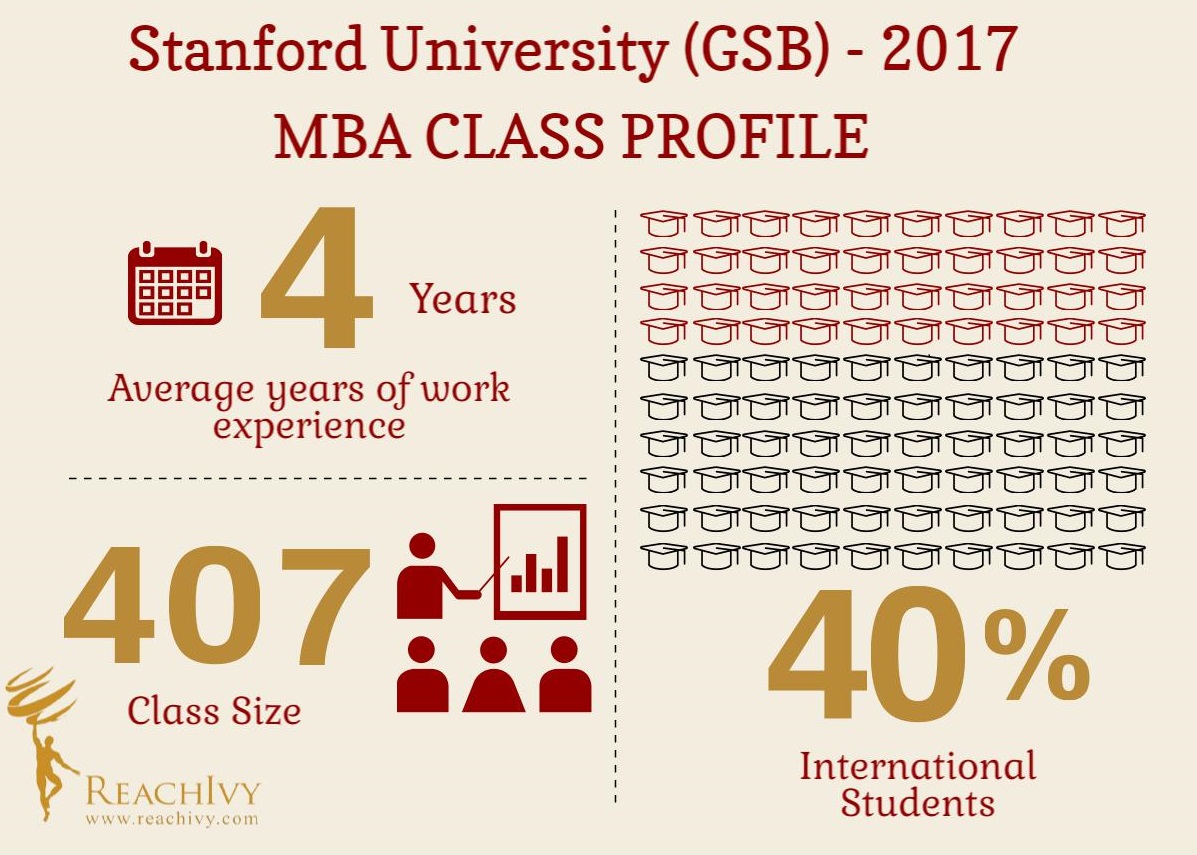 Here are 5 reasons on why to consider a MBA from Stanford GSB.
1. Faculty

Stanford GSB has 111 faculty featuring Nobel laureates, members of the National Academy of Sciences, and members of the American Academy of Arts and Sciences. During your time at Stanford GSB, you'll have direct access to their expertise and insight.

2. Global Perspective

Faculty at Stanford teach management in the context of an international economy. They ensure that your awareness of global issues will be developed through coursework, international study trips, internships, or programs offered worldwide.

3. Diverse Student Population

At Stanford students arrive from 50 countries, with many different educational, professional, and social backgrounds. Their collaborative educational process benefits from these diverse backgrounds, encouraging a range of perspectives and approaches to real-world problems.

4. Suitable Surroundings

Located in the heart of Silicon Valley, south of San Francisco, Stanford GSB is the most suitable place to study business. The San Francisco Bay Area provides endless opportunities for cultural enrichment, easy access to the outdoors, and fun.

5. Student Organizations

There are nearly 70 student organizations at Stanford GSB, a large number of student activities focuses on broadening exposure to the entrepreneurship community and sharing ideas.
Need help with your college applications? ReachIvy can help!
ReachIvy  sincerely hopes that this article serves as a critical tool to increase your knowledge base. For study abroad consultation  or career counselling  with ReachIvy, Submit a Query now! Also, review our resources  to access our free premium content.
Source: Stanford University (GSB) website.