#KnowYourCollege – Rotman School of Management
The Joseph L. Rotman School of Management commonly known as the Rotman School of Management, the Rotman School or just Rotman, is the University of Toronto's graduate business school, located in Downtown Toronto.
The school offers undergraduate, graduate and doctoral programs in business administration, finance and commerce, including full-time, part-time and executive MBA programs along with a Master of Finance program and a doctoral program, the Rotman PhD. Additionally, in collaboration with other schools at the university, it offers combined MBA degrees with the Faculty of Law (JD/MBA), the Faculty of Applied Science and Engineering (Skoll BASc/MBA), and the Munk School of Global Affairs (MBA/MGA); and Collaborative Programs in Asia-Pacific Studies and Environmental Studies.
Find below the MBA Class Profile (2018) to understand your chances: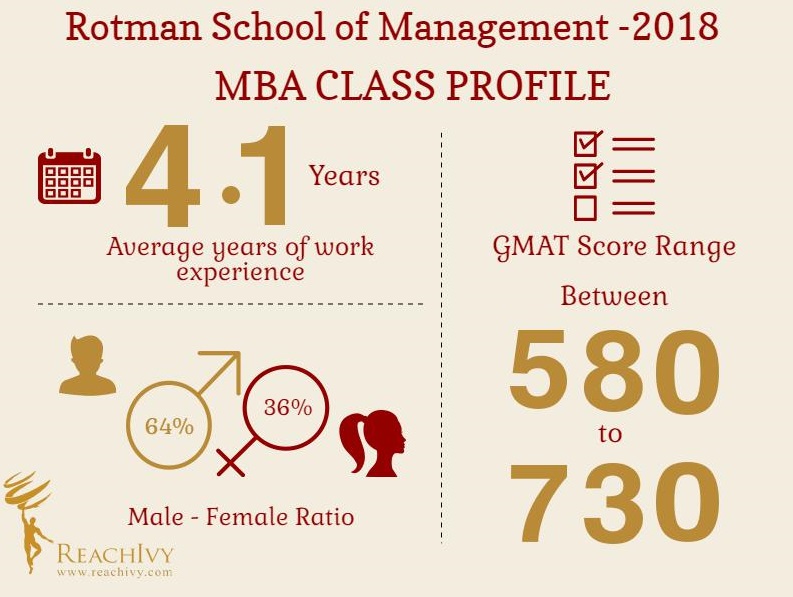 Here are top 5 reasons to consider a MBA from Rotman School of Management:
1. Diversity at Rotman– Diversity is more than a buzzword at the Rotman School. It's at the very heart of what makes this Canada's leading business school. Rotman is located in downtown Toronto, recognized as the world's most multicultural city by the United Nations (ahead of London and New York City), and is home to an astonishing array of festivals and annual events celebrating diversity in all its colours and varieties.
Taking advantage of its location in Canada's financial and cultural capital, the School attracts a dazzling array of students, faculty and staff from nearly every country in the world. Half the Full-Time MBA class consists of international students, while 75 per cent of Rotman faculty come from outside Canada, to cite just two examples.
2. Areas of expertise – Rotman is Canada's number one business school, as ranked by the Financial Times and is part of the University of Toronto, Canada's highest ranked university and among the top in the world. Our faculty are among the top in the world and include prominent academics and active business leaders, who create content based on theories and best practices that emerge from our 10 research institutions.
3. Integrative Thinking – Success in business today demands an ability to quickly adapt to a rapidly changing world. At Rotman, students will learn to go beyond the functional areas of business to consider the big picture, approaching each challenge with creativity and a willingness to take risks. Integrative Thinking teaches students how use models to define and structure business challenges, to fundamentally improve your ability to solve complex problems.
4. Network of high achievers – At the Rotman School, students will be challenged and motivated to excel by the high calibre of classmates — peers who will provide a lifetime network of friends and business contacts.
5. Career Growth– Located just blocks from downtown Toronto, Rotman is ideally positioned to help students connect with top employers from Canada, the U.S. and around the world. The School's strong academic reputation and close ties to the business community gives our graduates an edge in their search for a fulfilling career.
Need help with your college applications? ReachIvy can help!
ReachIvy  sincerely hopes that this article serves as a critical tool to increase your knowledge base. For study abroad consultation  or career counselling  with ReachIvy, Submit a Query now! Also, review our resources  to access our free premium content.
 Source: Rotman School of Management website.