#KnowYourCollege – Northwestern University (Kellogg)
The Kellogg School of Management is the business school of Northwestern University in Evanston, Illinois, with additional campuses in downtown Chicago, Miami and Florida. Kellogg offers full-time, part-time, and executive programs, and partners with schools in China, France/Singapore, India, Spain, Hong Kong, Israel, Germany, Canada, and Thailand.
Find below the MBA Class Profile (2017) to understand your chances: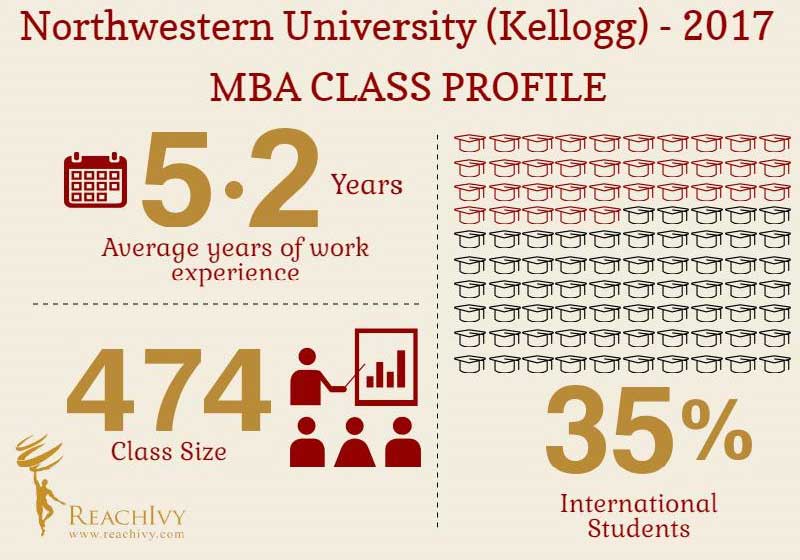 Here are top 5 reasons to consider a MBA from Northwestern University (Kellogg):
1. Global impact – As a Kellogg MBA student, you'll have premier access to their vast array of global experiential learning opportunities. Kellogg's integrated global footprint prepares you to lead an international organization by broadening your business perspective.
2. Library – With more than 3.5 million volumes, Northwestern University Library is one of the largest university libraries in the country. Management students also frequent the Mathematics Library & Engineering Library.
3. Sports and recreation – The location along the shores of Lake Michigan makes it an ideal location for recreational sports like swimming, sailing, beach volleyball, in-line skating and cycling. Kellogg teams compete against other MBA programs in soccer, rugby & ice-hockey.
4. Opportunities beyond classroom – The Kellogg experience reaches far beyond the classroom. From club trips to international learning experiences, Kellogg provides opportunities that equip students for the global marketplace.
5. International Students – Kellogg's international students bring cultural insights and experience from six continents. They lead clubs like the African Business Association, the Latin American, Hispanic and Iberian Management Association, the European Business Club, the Asian Management Association and the India Business Club. Many international students also lead Global Initiatives in Management (GIM) trips in their home countries.
Need help with your college applications? ReachIvy can help!
ReachIvy  sincerely hopes that this article serves as a critical tool to increase your knowledge base. For study abroad consultation  or career counselling  with ReachIvy, Submit a Query now! Also, review our resources  to access our free premium content.
 Source: Northwestern University Kellogg website.