#KnowYourCollege – Nanyang Business School (NBS)
Nanyang Business School (NBS) is the business school of Nanyang Technological University, Singapore (NTU). Singapore's oldest business school, NBS was established in 1956. NTU has a large 200 hectare campus along the Jurong West district of Singapore consisting of a number of schools and colleges and residential buildings.
Find below the MBA Class Profile (2017) to understand your chances: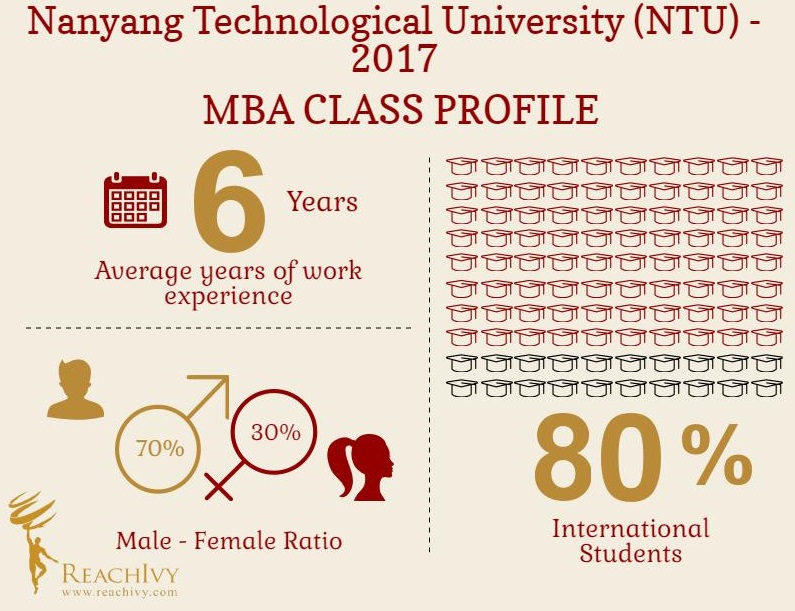 Here are top 5 reasons to consider a MBA from NTU:
1. Intense and Compact Curriculum – The curriculum is compact and rigorous 12-month programme that gives student maximum returns on your investment. There are double degree options lasting 15 months to 2 years in Japan, Switzerland or France.
2. Outstanding Faculty – Participants at Nanyang Business School gain insights from over 160 experienced faculty members across 30 nationalities. These faculty members are top academics, business advisers and researchers in their respective areas with PhDs from leading universities.
3. Real World Relevance – All MBA participants will work on a "live" consulting project with a sponsor company that may come from a variety of industry sectors. With guidance from faculty supervisors, students will get to apply classroom lessons to real world projects, including market opportunity analysis added to industry's best practice bench marking and customer intelligence.
4.International Exposure – Maximum international exposure is gained through optional international field trips also known as Business Study Missions (BSM), and exchange and summer programmes with one of 60 partner universities worldwide. Past destinations for BSM include Argentina, Myanmar, Mongolia, New Zealand and South Africa.
5. Campus – NTU was home to the inaugural Youth Olympic Games in 2010. International MBA participants have the opportunity to live in the graduate halls on the lush and serene Yunnan Garden campus.
Need help with your college applications? ReachIvy can help!
ReachIvy  sincerely hopes that this article serves as a critical tool to increase your knowledge base. For study abroad consultation  or career counselling  with ReachIvy, Submit a Query now! Also, review our resources  to access our free premium content.
Source: NTU Website