#KnowYourCollege – Massachusetts Institute of Technology (MIT)
The Massachusetts Institute of Technology (MIT) is a private research university in Cambridge, Massachusetts. The four-year, full-time undergraduate program maintains a balance between professional majors and those in the arts and sciences.
Find below the Undergraduate Class Profile (2020) to understand your chances: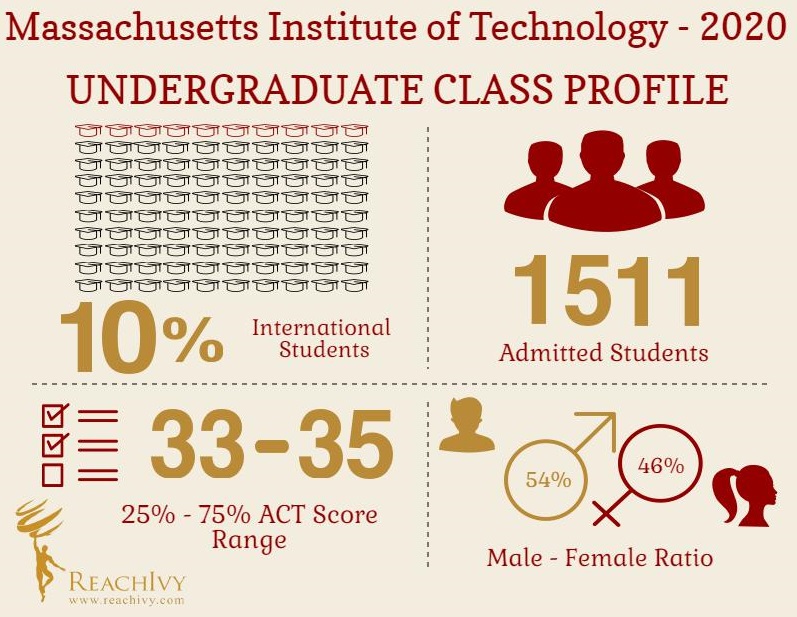 Here are top 5 reasons to consider a undergraduate degree from MIT:
1. Academic and Research options – Students at MIT may take advantage of a variety of academic and research opportunities to enrich or complement their academic pursuits. These include programs designed specifically to support freshmen adjusting to college life, opportunities to engage in collaborative research, global study projects and internships abroad, cross-registration options at other Boston-area schools, and the flexible learning structure and innovative offerings of the Independent Activities Period.
2. Arts at MIT- The MIT Center for Art, Science & Technology (CAST), established in 2012, facilitates and creates opportunities for exchange and collaboration for artists with engineers and scientists. The center is committed to fostering a culture where the arts, science, and technology thrive as interrelated, mutually informing modes of exploration, knowledge, and discovery.
3. Career and Professional options – An MIT education is a valuable investment in the future. Several options are available to students who need or desire career advice or job-search assistance, as well as to those seeking guidance about further study. Students can take advantage of programs to gain international experience or to earn teaching credentials. Leadership and military training opportunities are available through US Reserve Office Training Corps programs.
4. Advise & Support – All students have an academic advisor. The Office of Undergraduate Advising and Academic Programming assigns advisors to freshmen. Academic departments assign faculty advisors to students who have declared a major. In addition, there are faculty undergraduate and graduate officers in each academic department, as well as academic administrators who consult with students about their academic programs.
5. Campus life – Life at MIT is anything but dull, and opportunities to engage in activities beyond academics abound. Housing and dining, fraternities and sororities, student clubs and sports are but a few of the topics addressed in this section that provide a glimpse into the non-academic aspects of life at the Institute.
Need help with your college applications? ReachIvy can help!
ReachIvy  sincerely hopes that this article serves as a critical tool to increase your knowledge base. For study abroad consultation  or career counselling  with ReachIvy, Submit a Query now! Also, review our resources  to access our free premium content.
Source: MIT Website