#KnowYourCollege – Harvard University (HBS)
Harvard Business School (HBS) is the graduate business school of Harvard University in Boston, Massachusetts, United States. The school offers a large full-time MBA program, doctoral programs, HBX and many executive education programs.
Find below the MBA Class Profile (2017) to understand your chances: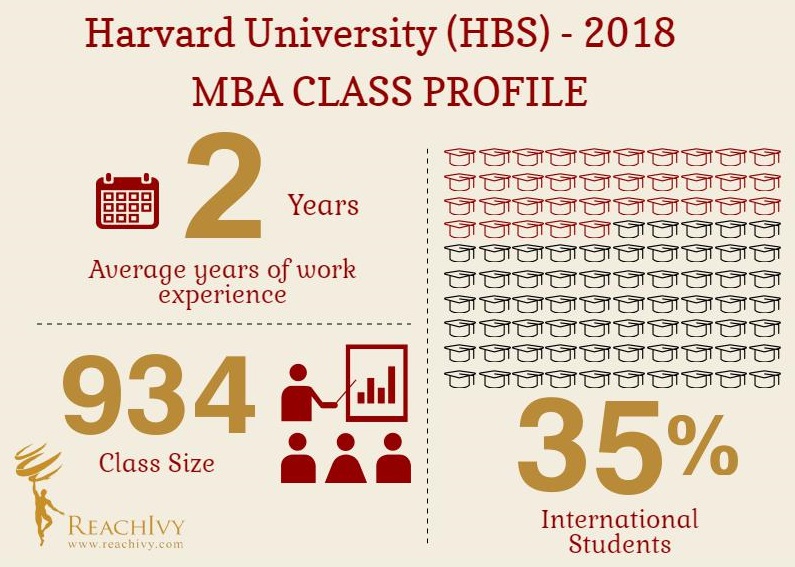 Here are top 5 reasons to consider a MBA from Harvard University (HBS):
1. Entrepreneurship & Innovation – At HBS, students are free to follow their inspiration and imagination while benefiting from a deep collection of resources that support the unique needs of entrepreneurs.
2. Activities, government & clubs – There are abundant opportunities to participate in student government and clubs as well as activities that match student interests, whether you are looking for a diversion from academic life or to have a significant impact on the HBS community.
3. Global Intelligence – At HBS, MBA students are challenged to think about different countries and different business contexts throughout their two years. 28% of the cases taught in the first-year Required Curriculum and 38% of cases in the second-year Elective Curriculum are globally focused.
4. Leadership & Values – At Harvard Business School we believe that leadership and values are inseparable. The teaching of ethics here is explicit, not implicit, and our Community Values of mutual respect, honesty and integrity, and personal accountability support the HBS learning environment and are at the heart of a School-wide aspiration.
5. Health Care – Students at HBS have access to Harvard University Health Services (HUHS) satellite clinic in Cumnock Hall for general health care. Services include primary care, mental health services, and nutrition counseling. Additional services are available at the main location of HUHS in the Smith Campus Center in Harvard Square.
Need help with your college applications? ReachIvy can help!
ReachIvy  sincerely hopes that this article serves as a critical tool to increase your knowledge base. For study abroad consultation or career counselling  with ReachIvy, Submit a Query now! Also, review our resources  to access our free premium content.
Source: Harvard Business School website.