#KnowYourCollege – Duke University
Duke undergraduates enjoy opportunities to engage in original research and receive mentorship by world-class faculty. The Undergraduate Research Support Office identifies grants and assistantships for undergraduate projects and summer programs. The Howard Hughes Undergraduate Program, the Institute for Genome Sciences and Policy, the Pratt School of Engineering and a variety of departmental programs offer summer opportunities for first-, second- and third-year students. Several programs offer travel and research grants, including awards for research abroad.
Find below the Undergraduate Class Profile (2020) to understand your chances: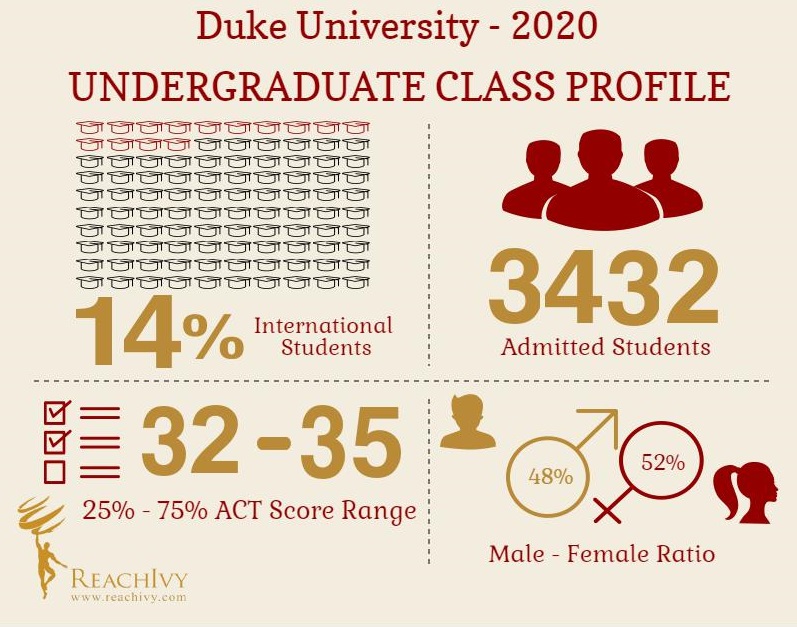 Here are top 5 reasons to consider a undergraduate degree from Duke University:
1. Undergraduate Research– Students can participate in faculty mentoring, research-focused curricula and funded opportunities as early as their first year on campus.
2. Public engagement – Duke offers a culture of public engagement that is interwoven with education and research across the institution.
3. Real world application – One of the hallmarks of a Duke education is the ability to translate theory into practice. Supporting innovation and entrepreneurship at Duke is a way of helping faculty, staff and students transform creative ideas from the classroom or the laboratory into real-world applications.
4. Scholarships & Fellowships – Duke's primary scholarship commitment is to provide need-based financial aid in order to enable all qualified students, regardless of financial circumstance, to receive a high-quality education.
Duke also offers a limited number of merit scholarships each year through endowments from individuals, foundations and corporations to recognize outstanding students.
5. Interdisciplinary Study – At Duke, knowledge of today's world is bounded not by disciplines, but by the limits of human curiosity. Duke scholars collaborate frequently across specialities, and students learn both in class and through real world experiences to approach questions through multiple perspectives.
Need help with your college applications? ReachIvy can help!
ReachIvy  sincerely hopes that this article serves as a critical tool to increase your knowledge base. For study abroad consultation  or career counselling  with ReachIvy, Submit a Query now! Also, review our resources  to access our free premium content.
Source: Duke University website