#KnowYourCollege – Duke University (Fuqua School of Business)
The Fuqua School of Business is the business school of Duke University in Durham, North Carolina, United States. It currently enrolls more than 1,300 students in degree-seeking programs. These programs include the Daytime Master of Business Administration (MBA), the Global Executive MBA, the Cross Continent MBA, the Weekend Executive MBA, the Master of Management Studies: Foundations of Business, Master of Management Studies: Duke Kunshan University, joint degree programs and a Ph.D. program.
Find below the MBA Class Profile (2017) to understand your chances: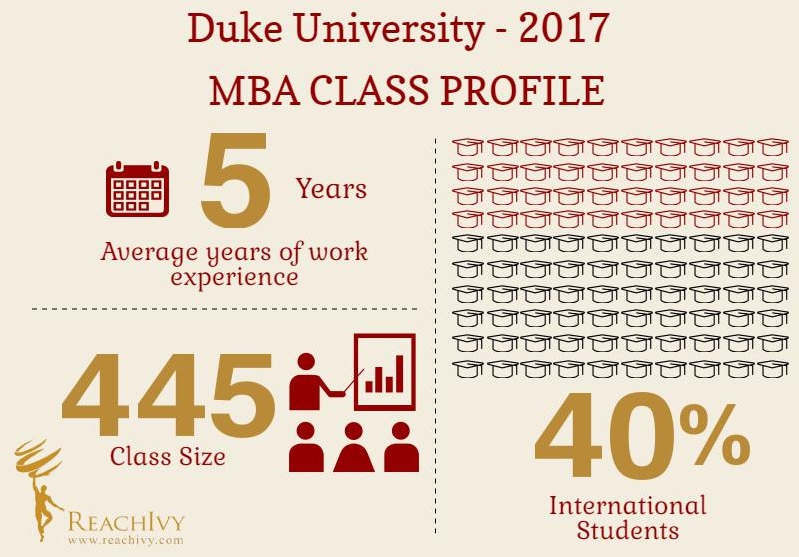 Here are top 5 reasons to consider a MBA from Duke University.
1. Research Advantage – Fuqua students and alumni benefit from the "Research Advantage," Fuqua's dedication to hiring and developing faculty members who excel at teaching while maintaining rigorous research programs. Fuqua faculty constantly contribute to both theoretical and applied research, and infuse their Fuqua courses with current research that's relevant to a range of business situations.
2. Financial Aid – Business school is a significant investment of both time and financial resources. A degree from The Fuqua School of Business maximizes the return on your investment to create global opportunities of limitless potential. Fuqua is committed to making this goal possible for all qualified students.
3. Center for Entrepreneurship and Innovation (CEI) – Through a combination of academic and extra-curricular activities, the center fosters an environment that encourages entrepreneurial thinking. The Center for Entrepreneurship and Innovation is committed to creating an outstanding student experience for aspiring entrepreneurs.
4. Ford Library – The Ford Library is home to:
70+ business databases
220 print business journals
1,500 online business journals
2,200 popular movies on DVD and/or Blu-ray
65,000 volumes of books
Need help with your college applications? ReachIvy can help!
ReachIvy  sincerely hopes that this article serves as a critical tool to increase your knowledge base. For study abroad consultation or career counselling  with ReachIvy, Submit a Query now! Also, review our resources  to access our free premium content.
Source: Duke University Website