#KnowYourCollege – Columbia University
Columbia University is a private Ivy League research university in Upper Manhattan, New York City.  The university is organized into twenty schools, including Columbia College, the School of Engineering and Applied Science, and the School of General Studies.
Find below the Undergraduate Class Profile (2020) to understand your chances: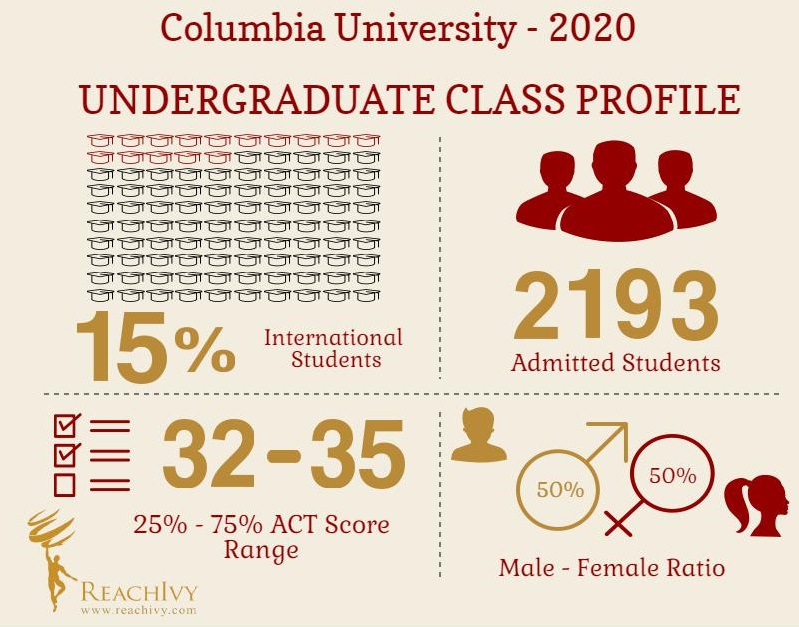 Here are top 5 reasons to consider a undergraduate degree from Columbia University:
1. Student Activity – You will meet other students like you — students who want to make an impact in their community, continue a familiar passion, or discover a new one. Clubs here are some of the most interesting, rewarding, close-knit, and fun micro-communities.
2. Diversity of resources – Diversity in education is transformative – enriching individuals as it enriches the community and society as a whole. Students from all backgrounds and with divergent needs will find opportunities at Columbia that allow them to thrive and succeed. Consider this sampling of resources available for undergraduates to engage with the wonderful mosaic that is the Columbia community.
3. Athletics – Whether you are a varsity athlete or just an avid sports fan, Columbia has a proud history of achievement. 15 Ivy League Championship teams in the last five years.  Several Columbia Olympians and Olympic medalists, past and present. Extensive facilities like 5,000 square feet of exercise space for classes in aerobics, body sculpting, martial arts and yoga, etc.
4. Clubs & Organizations – In meeting rooms and auditoriums, theatres and playing fields, brownstones and practice rooms, students pursue their passions. At Columbia, there are over 500 opportunities to explore, to grow, to lead, to share, with support from a variety of offices likeStudent Engagement, Multicultural Affairs and Residential Programs.
5. On Campus Jobs – Many students choose to earn money towards their personal expenses or term bill through an on-campus job. Each academic year, students may be eligible for either Federal Work-Study or Student Employment (or casual work) based on their financial aid packages.
Need help with your college applications? ReachIvy can help!
ReachIvy  sincerely hopes that this article serves as a critical tool to increase your knowledge base. For study abroad consultation  or career counselling  with ReachIvy, Submit a Query now! Also, review our resources  to access our free premium content.
 Source: Columbia University Website.