#KnowYourCollege – Chicago (Booth)
The University of Chicago Booth School of Business is a graduate business school located in Chicago, Illinois, at the University of Chicago. The school belongs to the M7 group of elite MBA programs which recognize each other as peers, consisting of Harvard, Wharton, Stanford, Columbia, Chicago Booth, Kellogg and MIT Sloan.
Find below the MBA Class Profile (2017) to understand your chances: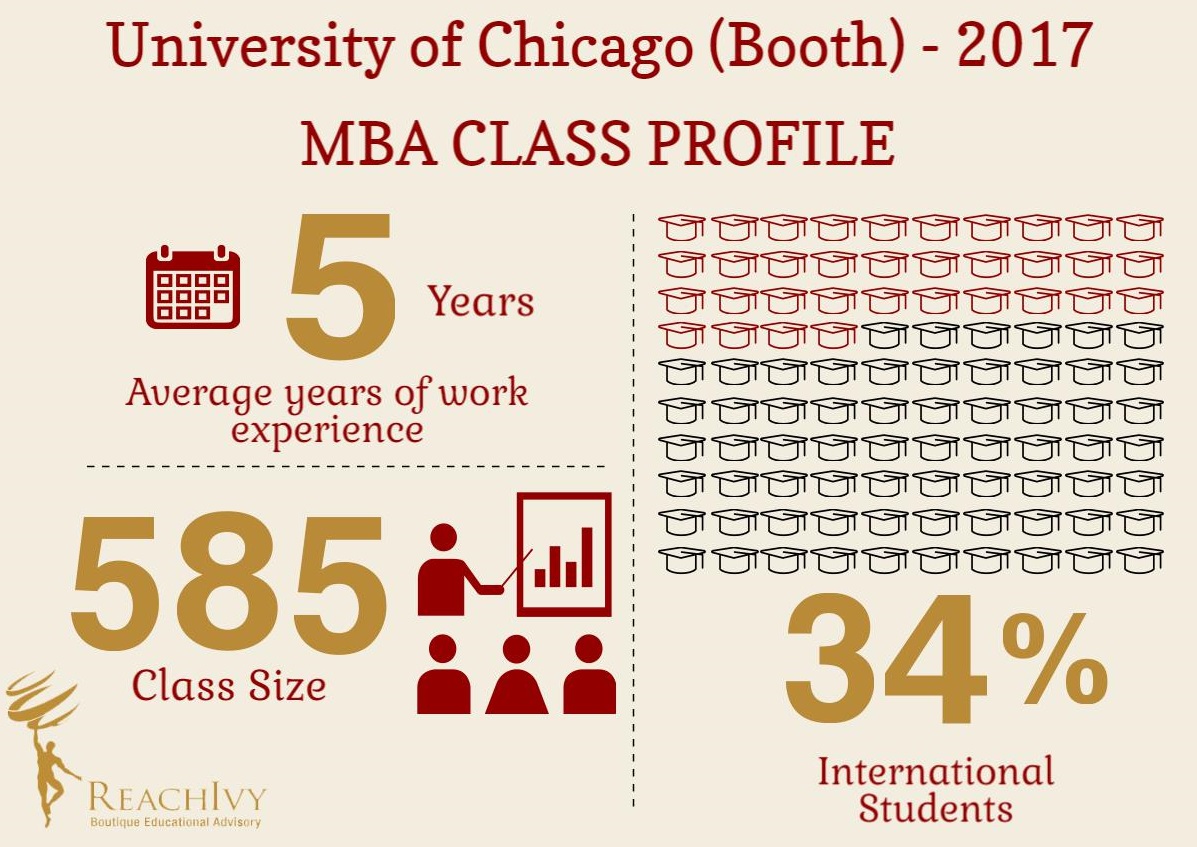 Here are top 5 reasons to consider a MBA from Chicago (Booth).
1. Experiential learning – Students get the chance to strengthen the connection between theory and practice with experiential learning. Testing the skills and knowledge you have gained in a practical setting will stretch and prepare you for business leadership.
2. An academic connection with the University– Chicago Booth is part of one of the greatest research institutions in the world – the University of Chicago. Through the joint degree programs they offer, you can increase the value of your MBA by combining it with a degree from one of the University's other world-renowned programs.
3. Chicago Booth Campuses – Chicago Booth has the finest set of facilities. Each of their locations reflects the architectural traditions of its environs while offering a state-of-the-art learning environment.
4. Financial Aid – Chicago Booth is committed to assisting all admitted students in financing their MBA, regardless of citizenship. Financing is available for all admitted students in the form of student loans and merit-based scholarships and fellowships Chicago Booth does not offer need-based financial aid.
5. Career Management – Career Services at Chicago Booth will support you in your job search. Career Services has a strong team of professionals, ready to provide you with coaching, career management tools and programming, and career resources to help you refine your career goals and navigate the recruiting process.
Need help with your college applications? ReachIvy can help!
ReachIvy sincerely hopes that this article serves as a critical tool to increase your knowledge base. For study abroad consultation or career counselling  with ReachIvy, Submit a Query now! Also, review our resources  to access our free premium content.
Source: Chicago (Booth) Website