ReachIvy Exclusive Sneak Peak: Top College Series – An Interview with Director of Admissions, MBA at Yale School of Management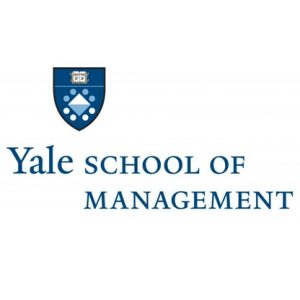 Name: Melissa Fogerty
Designation: Director of Admissions
School Name: Yale School of Management
1. Being able to pick the right program is crucial given the number of options available in the market. At ReachIvy, we meet a lot of students who face this decision. Who should ideally be applying for the Yale School of Management MBA program?
I'm glad that students are looking critically at their MBA program options to find the right fit. Even though it's hard to imagine at the application stage, I often tell prospective students that the hard part comes later – when they are choosing among the many attractive admissions offers they will have.
Yale SOM is a mission-driven institution, which means that students thinking about attending SOM should feel that our mission, to educate leaders for business and society, resonates with them. Students who are attracted to our program are interested in the decisions that leaders make and how those decisions should be about more than a narrow conception of profit and loss. Our students are looking to create value for a wide set of stakeholders. You'll see that reflected in SOM academically, socially, and in the career paths of our alumni.
Students looking at our program should be interested in taking advantage of the broader Yale community – from taking courses at other Yale schools, engaging with Yale graduate peers through conferences and clubs, to learning from world-renowned faculty across disciplines. Students should also be looking at Yale SOM as a place to launch a startup, make a career switch, engage with peers through the Global Network for Advanced Management, work alongside faculty who are experts in their fields and make lifelong connections through a globally recognized brand that will stay with them throughout their career.
2. Can you share with us what background/profile/ traits you are looking for in your incoming class?
Yes, and I'll also address some common admissions-related misconceptions I've heard in the past from Indian applicants. First, prospective students should know that we read applications holistically, to gain an overall view of a candidate's academic preparation, work experience, and goals. This means that there are no minimum or cut-off scores or grades in our review – we're reviewing all applications because we know that the numbers don't tell the whole story. Along that same vein, I often get the question of how the different parts of the application are weighted in our review and the answer to that is that we don't use a formula. We are truly looking at the complete picture of a candidate, and all of the pieces of the application process speak together to inform that picture.
So who are we looking for? At Yale SOM, we are looking for broadminded, intellectually curious leaders who will thrive in our MBA program. We want to bring diverse perspectives into our classroom so that we can challenge our students to engage critically with the complex problems facing leaders today, and that will face leaders tomorrow. Our students are global across many dimensions – they are citizens of countries all over the world, they have worked and studied in many geographies, many of them speak multiple languages, they have worked on globally diverse teams, and they are interested in expanding their international skillset. I'm often asked if we only have a specific number of seats available in the class for Indian students, and that isn't the case. There are no citizenship quotas in admissions.
Another dimension across which our students are quite diverse is their academics and work experience prior to entering our MBA program. From their undergraduate majors to their career experiences, you'll see in our incoming class former titles like 6Sigma Black Belt & Project Leader, VP of Finance, Food Technologist, and Designer for Swarovski. Our students have worked in technology, engineering, retail, and energy, for example, and for organizations like Bain, Schlumberger, Oracle, and Teach for India (*note that we waive our application fee for Teach for India alums). Many students are interested in pursuing joint degrees with other Yale programs, such as Yale Law School, Yale Medical School, and Yale School of Forestry and Environmental Science. When looking at our prospective students' career backgrounds, we are looking for quality over quantity, and true impact a candidate has had on the organization. We're also looking for passion and commitment to their goals.
As an Admissions team, we're pretty forthcoming about giving tips for the application process. We have a webinar coming up on August 16 that will be focused on going through each section of the application and talking about what we'd like to see in each area. I know the timing of that webinar isn't convenient for those in India, but I encourage you to register even if you can't participate live because we usually send out a recording of the webinar to registrants so you'll be able to watch it later at your convenience.
3. Can you tell us about your most interesting classes and professors?
I'd like to highlight one of our popular experiential learning opportunities, the Yale Center for Customer Insights (YCCI)'s MGT 650: Customer Insights and Applications, Discovery Projects. Working with notable marketing faculty Ravi Dhar and Nathan Novemsky, this course allows students to work on projects for real-world clients and make meaningful contributions while gaining marketable experience. With faculty guidance, students work in teams and apply critical thinking skills, quantitative research methodologies, and innovation to advise companies like American Express, Visa, IBM, PepsiCo, and Procter & Gamble on their customer-related questions. Students have said that this course was directly relevant to their future career goals and gave them great talking points for their internship interviews with recruiters. You can watch a video to learn more about this course from one of our current students here.
In addition, 65% of our students take at least one elective course outside the School of Management at other Yale schools, taking advantage of the wide variety of disciples available across the university to craft a customized curriculum that fits their interests. Some popular options this year included Renewable Energy Project Finance at Yale School of Forestry and Environmental Studies, Business Organizations and Capitalism Film Society at Yale Law School, language courses in Spanish and Mandarin, and Intro to Programming in the Computer Science department.
4. What are some of the facilities and faculty resources available to students who want to switch careers or pursue entrepreneurial interests while in the program?
In many ways all of our students are what I'd consider to be career switchers – they're coming to an MBA program because they are looking to change their industry, company, geographic location, or role, and they are looking at an MBA as a way to launch them into their next position. Our Career Development Office (CDO) does an excellent job at supporting students in their job search. 93.4% of Class of 2015 graduates seeking a job received an offer within 3 months of graduation, and our students accepted offers with 129 different organizations. The CDO conducts over 3,000 advising appointments per year, and students also have access to student career coaches, alumni mentors, and 25 job treks to 146 companies globally. For example, last winter students visited Silicon Valley accompanied by CDO staff and met with over 40 companies including Google, eBay, and LinkedIn. They networked with alumni from the schools of Public Health, Forestry, and Law, and also visited healthcare companies, investment firms, and social enterprises. Each year recruiters from finance, consulting, consumer products, healthcare and other industries visit our campus for presentations and internship interviews.
11% of the students graduating in the Class of 2015 joined a startup or started a business. The Yale Entrepreneurial Institute is a hub for entrepreneurs across Yale's programs to convene to start scalable new ventures, supporting innovation through our Venture Creation Program, the YEI Fellowship, and the YEI Innovation Fund (which provides $100,000 in pre-seed funding).  Resources include access to a Mentor Network, resident entrepreneurs, connections to the angel and venture community, and engagement with alumni and non-alumni experts. Yale SOM is also home to the Program on Entrepreneurship, where students can take elective courses like Start-up Founder Studies, an advanced study of start-up founders' experiences including student-led interviews of the entrepreneurs, Entrepreneurship & New Ventures, where students learn to create and manage new ventures across sectors and are introduced to emerging frameworks in entrepreneurship, and Impact Investing, covering investing across multiple asset classes. Students participate in events like the Yale Biotech Bootcamp (a workshop for faculty and researchers interested in commercializing ideas for drug discovery and biological therapeutics), Tech Entrepreneur Bootcamp (commercializing ideas from the physical and computer sciences, engineering, and software), and Tuna Tank (a fun SOM take on Shark Tank where students competed in a pitch contest for prizes). Check out the new ventures of some of our Class of 2016 students, Revai (organ transport) and Hugo & Hoby (crowd-funded, sustainable furniture).
5. There is a lot of curiosity among our students on what a classic day would be like in the Yale SOM MBA Program. Could you describe it for us?
That's a great question, and I think best answered by one of our students. I asked a current second year to describe a classic day in our program, and his response was:
"I think the biggest takeaway to describe a typical day as a SOM student is that we have to balance academics, clubs, and recruiting. The typical day will entail classes from 8:30 in the morning to 4:00 in the afternoon. After classes, Yale SOM students attend numerous club or recruiting events. Most events start around 6:00 or 7:00 p.m. and may last two to three hours. In my experience, I was attending either a club or recruiting event at least once a week during my first year. There were some weeks I attended these events three nights a week.
My first year at SOM was one of the most fulfilling years of my career. The camaraderie at SOM is second to none and I am definitely better personally and professionally because of it. To be frank, I can't wait to come back for my second year!" Ryan Forbes '17, Pre-SOM Univ. of Wisconsin – BBA, Accounting; Naval War College – MA, National Security, and Strategic Studies. Pre SOM Experience: Office of the Navy JAG – Technology, Operations, and Plans. Internship: Goldman Sachs.
6. How does Yale SOM assist current international students with career guidance and placement?  For students looking to return to India – what type of support would they receive?
Students work in partnership with our Career Development Office (CDO) to target the industry that interests them. The CDO helps the student to refine their career goals, create and research a targeted list of organizations, and leverage our on-campus and off-campus resources to conduct an efficient and effective job search. Students can tap into our database of alumni mentors to contact leaders in their industry and gain tips for their job search, and access a database of thousands of job postings seeking MBA hires in the United States and internationally.
Our global program embraces students who want to work all over the world. Many students pursue international internships and full-time employment. Our rich alumni network of Yale graduates in India assists students to pursue local jobs. I'll also highlight this year's International Experience trip to India with Senior Associate Dean Anjani Jain, where among other experiences students visited Reliance, Tata, Infosys, Biocon, and a luxury textile company. Sample companies in India where our students have found jobs include Amazon.com, Morgan Stanley, Mahindra & Mahindra, UBS Financial Services Inc., SunEdison, Wipro, and McKinsey & Co.
7. Is there any type of financial aid available to international students applying for this program? If so, can you tell us more about who the ideal candidate would be?
An MBA is a financial investment, so prospective students who are already thinking about how to finance their MBA are ahead of the game. Students should think critically about the return on that investment, and how a degree from a top-tier MBA program will maximize the return on that investment. At Yale SOM, we award merit scholarships to our incoming students based on the strength of their application. When we contact a student with their admission decision, we also let them know the amount of the merit scholarship they received. No separate application is necessary to apply for scholarships. Some of our merit scholarships are available to all students, and others are focused on a particular area of interest – marketing, finance, language study, the environment, or government – or population (for example, joint degree students, women, Silver Scholars). Students should also look at our website for a helpful list of external funding resources. We can assist you with finding student loans for international citizens that do not require a domestic cosigner and provide a list of lenders used by our students over the past three years.
We also have a generous Loan Forgiveness Program for students looking to enter the nonprofit or public sectors in the ten years after graduation. Through this program, the most generous among business schools, we have awarded over $8 million in aid to our alumni (including international students). Finally, we have a fellowship program available for entrepreneurs to help them manage the costs of launching a startup.
8. If you had one piece of advice to give to students interested in applying to this program, what would it be?
My advice would be to research an MBA program's offerings for alumni. Many prospective students are quite focused on the resources available for current students at a program but spend less time thinking about how they will leverage a university as an alum. If you think about it – you will be an alum for much longer than you are a student! Take a look at a school's career resources, ask about alumni-only content, and find out what kind of alumni directory is maintained. For example, at SOM our Career Development Office provides assistance to alumni through all phases of their careers, which is important because chances are you won't stay with the same employer or role for your entire career post-MBA. SOM alumni can participate in one-to-one coaching, networking, interviewing, and offer negotiation appointments, access worldwide job postings, and tap into entrepreneurship resources.
Are there alumni chapters located in the city where you plan to work after graduation, and how active are they? For example, last year our alumni in Bangalore participated in a startup networking event with other Ivy League, MIT, and Stanford alumni, and connected with Senior Associate Dean David Bach and prospective students at a reception at the Hyatt Bangalore. Can you leverage the alumni network of the broader university and not just the business school? What is the level of alumni participation in the school fund? You can follow the hashtag #yalesomalumni to learn about what our alumni are involved in all over the globe.
Melissa Fogerty is the Director of Admissions at the Yale School of Management. Melissa graduated with a B.A. summa cum laude from Boston College in French and earned a J.D. from Harvard Law School. She practiced law in Chicago and then in New York in the corporate department of Jenner and Block LLP, focusing on mergers & acquisitions, finance, and securities. She represented public and private corporate clients in a variety of transactions, including the purchase by General Dynamics of information technology services company FC Business Systems, Inc., the $390 million acquisition by Honeywell of Hand Held Products, Inc., a privately held automatic identification and data collection company, and the representation of Sam Zell and Equity Group Investments, L.L.C. in an approximately $8.2 billion going-private transaction involving the Tribune Company. Melissa joined the Yale School of Management in 2010.