10 Hacks for Study Abroad Application Filling Made Easy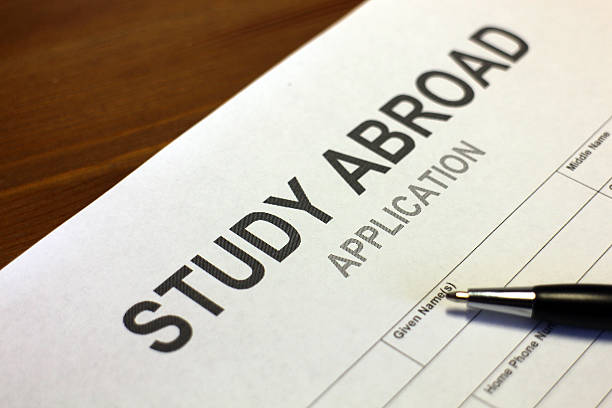 The process of filling out application forms for international education can be quite overwhelming. Especially if you are new to the whole process. There is a host of documentation work that will need your attention. In addition, you may need to accomplish certain tasks or activities to boost your chances of getting an admission. If you have not planned your activities, you run the risk of missing important deadlines. Or, you may fail to put forth a stellar application. Since there is no scope to redeem yourself after dispatching your application form, it is crucial that you work systematically to maximize your output. Here is a 10 step foolproof plan to help you through the applications: 
1. Start Your Preparations Early. 
Heard the adage, 'the early bird gets the worm'? Well, in this case, it is not so much about being the first one, but more about not being the last one. Though the real application form filling process may begin a year before the admissions date, you get good lead time if you are early in the game.  
What's a good time to start? Ideally, the application process should begin 3 to 4 years before the actual admission. For example, if you plan to pursue an MBA in an international school, start out when you reach 12th grade. Starting early has many advantages: 
You get a chance to understand the teaching methodology, the international student fraternity, the course curriculum, and the college faculty.  
You have all the time to research, analyze and shortlist the colleges you want to target.   
If you need to plan your finances, you can avail of excellent educational loans if you plan early. 
2. Prepare a Chart with Colleges and Their Application Requirements. 
Different colleges have different deadlines. A simple tool like a spreadsheet or a large chart paper with the colleges and their deadlines could save you a missed deadline. Most colleges state their application deadlines in their form. Some colleges have a closed deadline, while others keep rolling deadlines. Create a grid structure with colleges listed on the rows, and the processes listed in columns.  
3. Account for Delays in Procuring Your Documents. 
When you have to collect your documents from others, you have no control over the time loss. You could miss deadlines, if you ask for the documents close to the deadline dates. I'd go so far as to create extra deadlines for special tasks such as procuring recommendation letters, work certificates, school and personal documents in the same sheet. Remember that documents that need official signatures, or approvals may sponge away all your valuable time.  
For instance, a college professor you need a recommendation letter from may be out on vacation. Or your high school may be closed for Christmas holidays when you require copies of your transcripts. You have to account for all this extra time. A good idea would be to first work on the documents that other parties have to give you. As they send you the relevant documents, tick them off your list, and focus your energy in procuring the others. You may need to follow up constantly to expedite matters. Don't slacken on the follow-up; maintain a calendar to ensure that you are on top of the situation. 
4. Create a Checklist of Deadlines for Process and College Deadlines. 
In addition to a chart or excel sheet, have a checklist of tasks or activities that are necessary to meet the deadline. Go through them every day; ensure that you have not missed anything. Prioritize your activities based on the deadline. Your planner should take into account all new activities you want to take up, and the old ones you have already done. Sort the checklist based on priority and keep a tab on your performance. 
5. Plan Ahead to Take the Mandatory Tests. 
You will be required to take some standardized tests for your college application. If you are going for an undergraduate study program, you may need to take the SAT and ACT tests. For an MBA you will need to appear for the GMAT exam. For any other course other than medical or management, you'd be required to do the GRE. All international students need to appear for TOEFL or IELTS, an English test to check your proficiency. 
6. Prepare a To-Do List to Keep Track of All Activities. 
There may be many other activities you want to take up to add weight to your application. We already discussed about standardized tests. So, make sure to include these exams on your to-do list. Schedule your time to incorporate study time for these tests. Look out for exam result dates to streamline it to your other deadlines. There is no point in receiving your exam results well past the college application deadline, right? If you plan to take up a summer job, an internship or a field project, incorporate these in your to-do list, along with their relevant deadlines. Keep focused on the application deadlines to ensure everything is working smoothly. 
7. How to Fill Up the Application Form. 
I can understand the nervousness you feel when filling out the application form. Here's an idea. Always write a rough draft on a photocopy, to avoid scratching out details accidentally filled into the original form. Practice how to write neatly, in the restricted space, without making the application form look untidy. Focus on legibility rather than styling. 
Before filling out the application form, be clear on what the college wants to know. If you are unsure, refer to their brochure or the college website for more information. In case of doubt, it is best to consult your family, friends, or alumni members. You don't want to be rejected for lack of clarity! 
8. College Essays Are Very Important for College Application Process. 
I cannot emphasize enough on the importance of writing a good essay. Your essay mirrors you. A statement of purpose (essay) is your best pitch letter to tell the admissions council, why you are suitable for admission. Essay writing requires many iterations, careful deliberation, and proofreading. Hence, write the first draft of your essay early on. Having written an essay about yourself, have this read by your close family members or friends. They may be able to offer you insights you never thought of! Use simple, easy to understand language, that offers the best view of your profile. Be direct, in your language. Don't beat around the bush or write wishy-washy terms. Express your clarity of thought, and creative problem solving. Keep working on the drafts, until you can no longer improve on it. Proofread the essay or have it proofread by some English teacher or expert. 
9. Pursue Hobbies or Activities to Add Color to Your Profile. 
Always wanted to learn photography? Or want to do a course in web designing? Join courses that may significantly boost your chances abroad. Stay tuned in to the latest developments in the industry or education sector. Admissions councils love students who are well informed. If you decide to pursue a hobby, make sure to mention it in your essay, as well as your resume. 
10. Keep Improvising the Plan as Your Priorities Change. 
It is always possible that you will have changed your priorities, preferences of universities, or even destination of your study abroad program. For instance, you may want to modify the list of colleges you want to apply to. That's okay! A plan has to accommodate for alterations. Once you have frozen your altered plan, make sure to incorporate the changes in your planner. Look for opportunities to improve your application process, even as you make the alterations. You may be able to juggle a few items, to save you the trouble of starting from scratch.  
To sum it up, application form filling is not as tedious as it may look. With proper planning and time management, you will be able to send out a winning application form that is worthy of the admission officers' attention.
ReachIvy  sincerely hopes that this article serves as a critical tool to increase your knowledge base. For study abroad consultation or career counselling  with ReachIvy, Submit a Query now! Also, review our resources to access our free premium content.